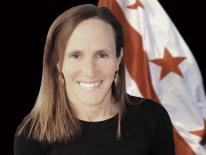 Hilary Cairns, Director
Hilary Cairns was named Director of the DC Department of Youth Rehabilitation Services (DYRS) in July 2021. In this role, Hilary is responsible for administering comprehensive services and programs for court-involved youth across the District of Columbia. DYRS includes two secure facilities, two community-based youth centers, an $85 million budget, and 575 employees.
Prior to this role, Hilary served as the Deputy Administrator of the DC Department of Human Services' (DHS) Youth Services Division, overseeing DHS' youth programs focused on early intervention, diversion, and homelessness. Immediately prior to joining DHS in 2010, Hilary was a parent's attorney and a Guardian ad Litem in child abuse and neglect cases. In a previous role, Hilary helped create the now long-standing Mayor's Capital City Fellows Program that attracts young professionals to work for the City. As a 26-year public servant, Hilary brings extensive knowledge and experience to all facets of the District of Columbia government and the DC juvenile justice system.
Hilary earned a Juris Doctor degree from the Georgetown University Law Center, a master's degree in public policy from Georgetown Public Policy Institute, and a bachelor's degree from Wellesley College.