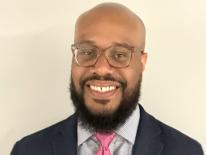 Trey Stanback, Interim Director
Clarence "Trey" Stanback was named Interim Director of the DC Department of Youth Rehabilitation Services (DYRS) in February 2023. In this role, he is responsible for providing court-involved youth with the nation's best continuum of care and directing the administration of comprehensive services and programs for the District's young people and their families.
Most recently, Director Stanback served as the Chief Operating Officer for DYRS, providing oversight of all Administrative Services, including Contracts and Procurement, Resource Allocation, Grants Management, and Community-Based Residential Facilities; Real Estate and Property Management, including Facilities Maintenance, Risk Management, Fleet, and Capital Projects; as well as Information Technology.
Director Stanback began his career in the federal government, where he was an Economist for the U.S. Department of Transportation, Maritime Administration. Since 2014, he has served in several roles at DYRS, including Licensing Manager – overseeing regulatory compliance of the agency's community based residential facilities; Integrity Officer, responsible for administrative investigations of youth and staff grievances; and Deputy Chief of Staff, where he managed communications and served as liaison to the agency's labor unions and the District's Office of Labor Relations and Collective Bargaining.
Director Stanback loves the outdoors, especially spending time around water. He also enjoys sports, learning new things, and travel. Originally from Prince George's County, Maryland, he spent his formative years enjoying time with family who lived throughout the District of Columbia. During this time, he discovered his love for the District, where he resides today.
Director Stanback earned a Juris Doctor degree from Howard University School of Law and a Bachelor of Arts degree in Economics from the University of Maryland, College Park.