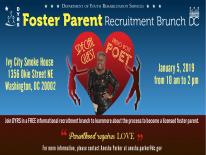 Last Date:
Location:
1356 Okie Street NE, Washington, DC 20002
Details:
The Department of Youth Rehabilitation Services is seeking to increase our community placement options in 2019 for those youth committed to our care.
Specifically, we are seeking to increase our foster homes located in the District of Columbia and/or immediate neighboring communities in Maryland or Virginia. Our agency contracts with Foster Home Agencies who will train, support and compensate Foster Parents and/or Foster Couples to provide a healthy, nurturing home environment and to serve as positive, caring adults in the lives of our youth. We are hoping to generate interest among DC area residents who are willing to open their own homes, to offer love and support to our court-involved young people and to serve as a licensed foster care provider. The foster home placements will serve our youth when their natural families are unable, for a variety of reasons, to care for them.
We have planned an amazing event for interested persons. We are so excited to have Poet, highly acclaimed WPGC Radio Host to join our event. When she's not on the air, Poet is bringing awareness to teens and young adults in the foster care system seeking a loving home and forever family. The multi-media personality is also involved in initiatives that focus on self-love, community activism, growth and engagement. Poet grew up bouncing between the D.C. and Maryland foster care systems, and learned early on that it takes hard work, dedication, blind faith and a village to accomplish your dreams and walk in your purpose.
Please support our efforts to spread the word on this event and our agency need. Feel free to share among family, friends, colleagues, professional or social networks.
https://www.eventbrite.com/e/foster-parent-recruitment-brunch-tickets-52415532268?utm-medium=discovery&utm-campaign=social&utm-content=attendeeshare&aff=escb&utm-