Agency Highlights its Commitment to Wards 7 and 8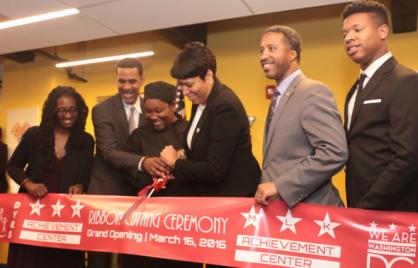 Mayor Muriel Bowser cut the ribbon yesterday at the grand opening of the Department of Youth Rehabilitation Services (DYRS) newest location for youth programming and support, the Martin Luther King (MLK) Achievement Center in Ward 8. The MLK Achievement Center reinforces the agency's dedication to public safety by providing its committed youth in Wards 7 and 8 – a demographic that accounts for more than 50 percent of the agency's population - with services that foster education and career development, life skills and healthy living in a space close to home. DYRS opened its first Achievement Center at its headquarters in Northwest DC.
"Wherever I go across our city, I am inspired by the young people I meet," said Mayor Muriel Bowser. "No matter who they are, or where they come from, they basically tell me the same thing – they just want a fair shot. I am proud to live in a city that believes in rehabilitation. Today, with the opening of the new DYRS Achievement Center, we are building on our commitment to young people."
DYRS Director Clinton Lacey and District of Columbia Councilmembers LaRuby May and Kenyan McDuffie joined Mayor Bowser in the ribbon cutting. Prior to the ceremony, Councilmember May and Councilmember McDuffie each expressed their approval of the MLK Achievement Center and DYRS' perseverance in building community capacity.
The MLK Achievement Center features a computer work lab, an instruction kitchen, a combined barbershop and cosmetology studio, two conference rooms dedicated to programming, and a co-locating space for community collaboration, all dedicated to empowering DYRS youth in building educational skills and obtaining professional certifications. The location also includes an open space for activities and offices for the DYRS case managers and social workers that serve Wards 7 & 8.
Additionally, the center will serve as a University of the District of Columbia site for youth under DYRS' care, their families and the community. Sister DC government agencies including the Department of Employment Services and Department of Human Services will offer workforce development services and various family and economic services, respectively.