Former committed youth successfully transitions from DYRS to high school completion, college acceptance, and workforce readiness.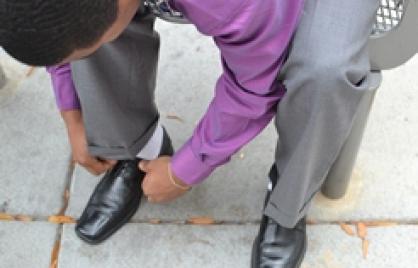 WAMU Radio's Metro Connection recently featured one of our youth to spotlight how, with DC YouthLink, he was able to successfully transition toward obtaining a high school graduation, earning college acceptance, working in the community and defining what a 'New Beginning' means in both word and deed.
The interview segment was produced by Emily Berman, and a complete transcript is posted below.
DC Juvenile Offender Seeks a Clean Slate
By Emnily Berman
MR. SABRI BEN-ACHOUR
00:00:03
Our next story is also about a local teen, one who just got released from New Beginnings, D.C.'s high-security juvenile detention facility. Emily Berman met up with him, we'll call him Shawn, and found out how you start your life over at 17.
MS. EMILY BERMAN
00:00:15
This is the first week of Shawn's new life.
SHAWN
00:00:19
I'm at Waterfront Station currently waiting for a job interview at the Department of Transportation. I don't know exactly what the job will be, but I'm just hoping and waiting to see if I get hired or not.
BERMAN
00:00:31
Two days after he was released from the detention center, his case manager called him to let him know she had lined up an interview for an internship. Shawn dug out his nice clothes, clothes he hasn't worn for years.
SHAWN
00:00:43
I have on a purple shirt, a tie and gray slacks and some dress shoes, what I'm not really used to.
BERMAN
00:00:50
What Shawn did to land himself in court, happened three years ago, but he says it feels like it was two seconds ago. As he talks about it, his breath changes and his eyes dart around while the scenery plays in his mind.
SHAWN
00:01:05
We stole a car for no reason. We started getting chased and we hit a pole. The boy in the back flew out of the car with the door. He was holding onto the door. I thought he died. The airbag took the skin off my face and I was knocked out for about 10 seconds. I went to jail. Got put on probation for six months.
BERMAN
00:01:27
Two months before his probation was over Shawn got caught in another stolen car. His probation was extended and Shawn became more and more angry.
SHAWN
00:01:36
I got into a fight with a police officer. First I got put in a group home and then sent out a residential placement. And I caught some charges out of the residential placement, little stuff, but the little things add up. They just said they was tired of it and put me out of the program.
BERMAN
00:01:54
The Department of Youth Rehabilitation Services sent Shawn to New Beginnings, a facility that's both a detention center and a school.
SHAWN
00:02:02
I was trying to get home as soon as I got there. So the least you're gonna be gone is eight months. They try their best to not make you feel like you're in a detention center. They remind you of it, like, they don't bring, like, into total comfort, but they try to teach you more than they punish you. Like, by my second month I just got into the mindset of just trying to forget I was there and doing what I had to do while I was there and just look up one day and they just tell me it's time to go.
BERMAN
00:02:33
New Beginnings can handle just 66 people at a time. The offenders here range from 14 to 21 years old. And at 17, Shawn was on the older end of the group. Sometimes he says he went out of his way to give extra attention to the younger guys there.
SHAWN
00:02:48
There was this boy, we called him Hulk. I know how to draw, so when I'd bring my drawing pad out and sit down and he always sit right there and watch me draw. So one day he started bringing his drawing pad out there. So he just start drawing a picture and I'd be like, draw it again. He can draw now. Like, at first he could draw, but he just didn't know how to put it all together. He found a talent that he didn't know he had forever.
BERMAN
00:03:11
Shawn finished his high school credits and received a diploma, something he says he never would have done if he were still on the streets. In his spare time he completed certification programs in barbering and culinary arts.
SHAWN
00:03:23
When you down there all you've got is time. Now, when you're home, like, you can notice like when your down time is, like when you're really not doing nothing when you could be doing something with that time.
BERMAN
00:03:34
Every minute was used to teach, Shawn says, even when he thought he was taking a break.
SHAWN
00:03:40
We had this one staff named Mr. Kearney. So I'm a basketball player, so when I played basketball, he would be on the sideline talking trash. He like, yeah, he gonna have to learn how to not have rabbit ears to the sidelines.
BERMAN
00:03:54
Shawn had a session everyday where kids talked about going home to their old neighborhoods and avoiding old habits. Now, that he's out, those conversations have a whole new meaning.
SHAWN
00:04:04
If you take things that they give you and run with it, like, it comes back to you. I mean, like, I don't think you'll find another detention center out here like that one. And I don't know what it is about down there, but they sure do teach a lot.
BERMAN
00:04:18
Back outside the metro station waiting for his interview, Shawn describes that day he was released. The staff gathered together with all his mentors, his teachers and his mother to surprise him with an impromptu party. They said, okay, you can go home now.
SHAWN
00:04:33
No, they caught me off guard. I knew it was coming soon, but not that soon. As I was driving down the road, I had to think like I'm free.
BERMAN
00:04:43
He's been accepted to Northampton Community College and is waiting to hear from two more schools. Classes start in January, but in the meantime he's really hoping he gets this internship. I'm Emily Berman.