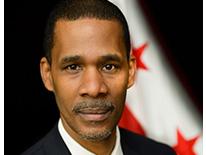 Clinton Lacey is Director of the District of Columbia Department of Youth Rehabilitation Services (DYRS), DC's cabinet-level juvenile justice agency. Mayor Muriel Bowser appointed Director Lacey to lead DYRS in 2015.
Before joining DYRS, Clinton had more than 25 years of experience working with youth and families - 19 of which have been focused in the field of juvenile and criminal justice.
Clinton joined the New York City Department of Probation as the Deputy Commissioner for adult operations in 2011. In this capacity, he was responsible for the oversight of a division that supervises approximately 24,000 clients on probation and leading a series of innovative initiatives designed to reform the Probation Department's key policies while building a host new relationships with system and community partners.
In June of 2006, Clinton held a project manager position at the W. Haywood Burns Institute, working in several jurisdictions around the nation with stakeholders engaged in the Institute's process of addressing racial disparities in local juvenile justice systems. In this capacity, Clinton had the opportunity to train and collaborate with a cross section of stakeholders, including judges, probation officials, prosecutors, public defenders, educators, advocates, community organizers and the court involved youth and families themselves.
Clinton also served as the director of the Youth Justice Program at Vera Institute of Justice, where he oversaw a technical assistance project focused on the reform of New York State's juvenile justice policies. At Vera, he led an initiative to develop and improve collaborative relationships between community-based youth advocates and system based juvenile justice officials from various jurisdictions around the nation.
From 1992 to 2004, Clinton operated as the associate executive director of Friends of Island Academy, developing and managing services for 16 to 24-year-olds involved in the juvenile and criminal justice systems of New York City.
Clinton is an experienced trainer, facilitator and keynote speaker on such issues as DMC, racial and ethnic disparity, transitional discharge planning, comprehensive re-entry services, gang intervention strategies and overall youth and human development. He has conducted training workshops and delivered lectures around the nation, as well as in Brazil and Barbados. Clinton has a B.A. in Latin American and Caribbean History from Herbert H. Lehman College (City University of New York) and is a graduate of the Institute for Not-for-Profit Management at Columbia University. Clinton is married and the father of two sons and a daughter.