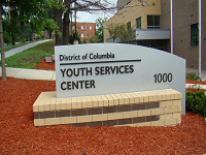 Along with the Youth Services Center (YSC), Court-involved youth under secure placement and committed to DYRS may also be assigned to the following secure facilities:
New Beginnings Youth Development Center
New Beginnings is a 60-bed secure residential treatment facility in Laurel, Maryland for young people involved with the most serious and chronic offenses. Youth at New Beginnings participate in the DC Model program, which provides long-term supervision, rehabilitation, and community reintegration planning. Some of the specific services at New Beginnings include screening and assessment, onsite medical and dental care, trauma-based behavioral health care, individual and group counseling, substance abuse counseling, education at the onsite Maya Angelou Academy, workforce and vocational training, structured recreational activities, and family visits and engagement programs.
Youth Services Center (YSC)
YSC is an 88-bed secure residential facility in northeast DC that provides youth with 24-hour supervision, custody, and care. Services include diagnostic screenings, onsite medical care, individual and group counseling, education provided by the DC Public Schools (DCPS), structured recreational activities, and family visits and engagement programs.
Residential Treatment Centers (RTCs)
An RTC is a secure treatment facility for youth with specific mental health, behavioral, or substance abuse needs. RTCs provide specialized educational and behavioral modification programs in a structured, supervised environment. Depending on the treatment progress of the individual youth, RTC placements typically last from six to 12 months.
Psychiatric Residential Treatment Facilities (PRTFs)
A PRTF is a non-hospital facility that is appropriate for youth with prescribed psychiatric needs. Placements at PRTFs are approved through the DC Department of Mental Health.
Residential Drug Treatment
Youth requiring inpatient substance abuse detoxification and stabilization receive short-term treatment at a variety of placements, which are not operated by DYRS. Extended inpatient substance abuse treatment is available through contracted providers. DYRS makes its determinations about whether a youth requires residential substance use treatment based on formal screening and assessment along with case manager recommendations.