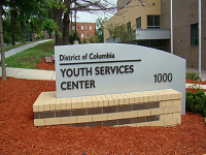 The Youth Services Center is a secure residential facility for detained male and female youth awaiting adjudication and/or disposition by the courts. The Youth Services Center has 24-hour supervision and comprehensive social services, including a variety of academic and experiential programs provided by District of Columbia Public Schools (DCPS). Youth attend school five hours per day, five days per week.
Other features of the Youth Services Center include:
Diagnostic assessments and placement services
Mental, behavioral, and physical health care
Educational services
Security
There are visiting hours on Wednesdays and Saturdays.
Service Location:
GIS Address:
1000 Mount Olivet Road, NE