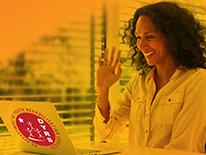 The Department of Youth Rehabilitation Services (DYRS) is scheduling Virtual Visitations for youth housed at the Youth Services Center (YSC) and the New Beginnings Youth Development Center (NBYDC). Virtual Visitations will be at the Youth Services Center (YSC) for residents housed in any DYRS facility.
What is a virtual visitation?
A virtual visitation is an opportunity for youth and their parents or caretakers to connect virtually via a Zoom video call. Secure Programs is providing tablets that are socially distanced apart in the community room at YSC for the visits.
How does it work?
Up to five parents/caretakers will participate in each 30-minute session. There will be three 30-minute sessions within the time allotted per facility. In between sessions, staff will sanitize the tablets and the community room. Visitations will rotate weekly so that each week, a different unit for each facility will have their visitation.
Where will they take place?
YSC will be the hub for virtual visitations as all of the virtual visitations will happen at that location.
When will they happen?
Virtual visitations will be held weekly on Wednesdays at:
4:30 pm – 6:30 pm for parents and caretakers of youth residing at YSC
6:30 pm – 8:30 pm for parents and caretakers of youth residing at NBYDC
Scheduling a Virtual Visitation
A Juvenile Justice Institutional Counselor (JJIC) will contact Visitors to schedule their visitation date, time and explain the Virtual Visitation process.
For more scheduling information, please contact Angela McCollum at [email protected] for YSC.
Ms. Marjorie Turner [email protected] or Stephanie Evering [email protected] for NBYDC.
What to expect at the Visitation
Please be on time and bring your mask. Late arrivals will result in visit cancellation. If you are early, please enter the building only 10 minutes before your scheduled visit.
Visitors will log in at the the health kiosk to check their temperature and acknowledge that they don't have any COVID-19 symptoms. For contact-tracing purposes, DYRS will record Visitors' information.
Visitors will be required to secure their phones and other unapproved items in a locker.
Staff will escort visitors to wash their hands and enter the Community Room for the Virtual Visitation.
After Visitation, Visitors must sanitize their station.
Please maintain a 6 foot distance from other Visitors.
For more information about Virtual Visitations, please contact YSC Deputy Superintendent Ernest Waiters Jr. at [email protected] or NBYDC Deputy Superintendent Kenneth Person at [email protected].